Case study reference :
3-31-005

Products treated: Needle caps for medical use 
Transfer and bagging of plastic parts

The client is a manufacturer of needle caps for the pharmaceutical industry.
After the industrial molding process, the stoppers are mechanically transferred by a vibrating feeder into small conditioning bins. In order to meet an increase in demand for these parts, a solution to switch from the current packaging (small crates) to bulk bags was needed. The entire installation had to operate in a clean room facility.
The plastic caps are first temporarily stored in hoppers and fed into a pneumatic transfer system, which transfers the caps to five Flowmatic® 02 bulk bag filling stations.
5 Bin unloading stations are installed in front of the 5 mold presses.
Each station is equipped with a buffer hopper with covers controlled by jacks, a touch screen display and a hand-held bar code reader. The hood is opened and closed automatically.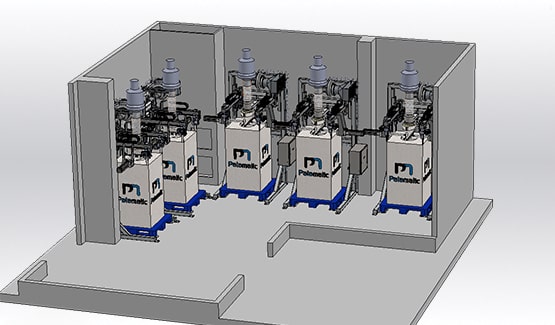 Pneumatic suction transfer of parts 
Five independent pneumatic transfer systems are integrated to convey the plastic parts from the hoppers to the bulk bag filling stations.
Each of the five stations is made up of a suction pipe, a receiver and a fan.
The starting sequence of these stations is conditioned by checking the status of the current bins and the filling status of the bulk bag.
In order to provide an appropriate transfer speed for the plastic caps, the frequency converter controlling the fan can be adjusted.  
Big bag filling stations:
Five FlowMatic® 02 bulk bag filling stations are available, each associated with a pneumatic transfer receiver.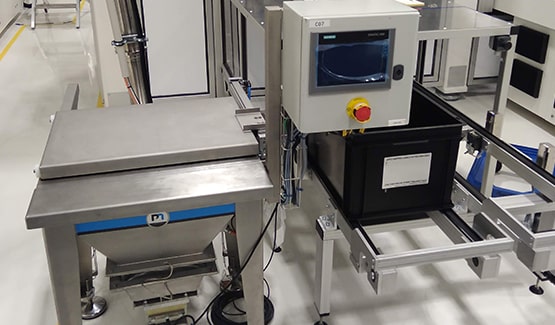 The PLC controls the list of bins discharged into the bulk bag and the opening of the hopper.
It also provides the interface with the customer database and generates the labels to be affixed to the FIBCs.
Once the bulk bag is filled to the desired weight, the handle release system is activated and the spout is released from the filling head. A heat-sealing system then hermetically seals the bulk bag inlet spout in order to preserve the quality of the plastic caps stored.
The bulk bag is then automatically placed on the ground and unhooked from its filling station for rapid and secure evacuation.
The customer, concerned about the quality of his packaging line, trusted us for the installation and commissioning of all this equipment.