Case study reference:
2-26-008

Processed powder: diatomaceous earth
Manufacturing of engine additives
Objective:
Safely feeding powders with nitrogen inerting lock in a sensitive environment, ATEX gas zone, zero retention.
Project:
The deconditioning of the sacks of diatomaceous earth is conducted using a Sacktip® 1200 manual bag dump station. The operator places the bag on a holding shelf using a MANIS vacuum bag manipulator. The bag is then positioned on the integrated vibratory sieve above the powder discharge hopper.
The sack tip tray is equipped with a built-in dust extraction system. This industrial dust collector guarantees a healthy and dust-free working atmosphere.
Once the bag is emptied, it is evacuated via the bag compactor, which reduces the volume of waste in a polyethylene sheath. By containing the spent sacks, possible dust exposure from material residue is eliminated, keeping the workshop safe and healthy.
A gearbox (product support part) is fixed under the hopper to allow the pneumatic transfer of the powder to the cyclone, which is also equipped with an air inlet filter.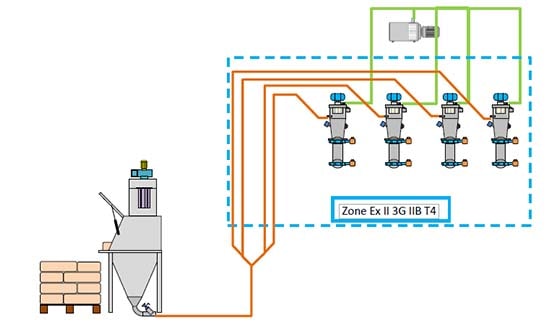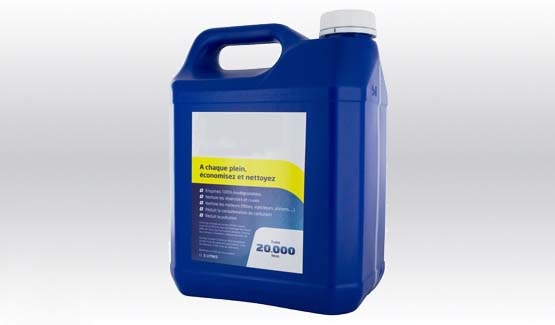 A pinch valve switch automatically selects the desired transfer line.
The powder is transferred from the vacuum bag using a VFlow® 02 vacuum pneumatic transfer system to supply the 4 reactors. The flow rate of the transfer system is 600 kg/hr.
The cyclone is equipped with a double-dump drain lock for loading the reactors. This double valve system avoids any risk of the cyclone valve heating up and steam getting into the cycle.
A claw vacuum pump provides the vacuum required to transfer the material into the piping.
The entire installation is controlled by a PalTouch® control cabinet.