Case study reference :
3-31-011

Processed Powder: pharmaceutical capsules
Capsule production line
Client: International manufacturer of pharmaceutical and cosmetic products
Customer specifications: at the exit of the capsule manufacturing lines (after forming, filling and drying), the client needed to count the number of capsules and provide a degree of quality control.
As the capsules are dried on tray trolleys the line operators must reverse these trays into the receiving hopper. This receiving hopper is positioned at an ergonomic height to facilitate the emptying operation and avoid operator MSDs, which are generated by ergonomic problems.
Once the production batch is loaded into the hopper, the operator starts the counting cycle by activating the vibrating corridor. The vibrating corridor makes it possible to empty the hopper without altering the capsules. The hopper emptying speed is managed by the frequency converter controlling the vibrating corridor. The vibrating corridor is made of food grade HDPE and can be quickly removed for cleaning in the wash room.
At the end of the vibrating corridor, five control and counting functions are positioned. These functions have been integrated in an compact arrangement to guarantee the ergonomics of the workstation.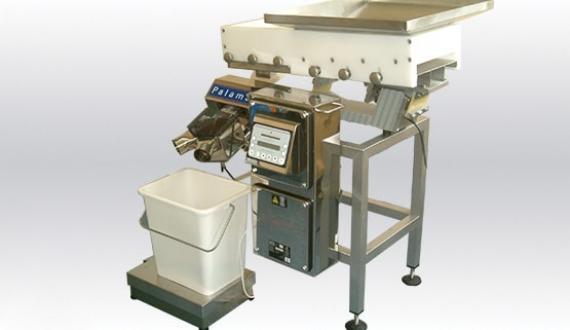 Function 1: geometry check
Some capsules may show defects and therefore have gelatin grains. To remove these non-compliant capsules, specific custom-made imprints calibrate the passage of the capsules. Non-compliant capsules are blocked when passing over these impressions and the operator removes them at the end of the batch.

Function2: counting
Compliant capsules pass through the calibration indentations and are counted by automated cells. All the passage tracks integrate the counting cells and are capable of high process rates.
 
Function 3: magnetic detection
At the outlet, an in-line magnetic detector with ejector ensures the capsules are free of metallic foreign bodies. The detected capsules are ironed to refine the ejection sorting.
 
Function 4: power bypass
The assembly, capable of high processing speeds, utilizes a bypass mechanism which allows the filling of two receiving tanks. When the target count is reached, the bypass switches to the second tank while the operator changes the first tank. This masked-time operation increases the feed rate of the vibrating corridor.
 
Function 5: Check weighing
In addition to the capsule counting, the trays are positioned on weighing scales allowing a double control of the quantity of capsules.
 
Conclusion:
This ultra-compact and hygienic assembly, via the fully removable and washable modules, offers all the functionalities required by the pharmaceutical industry. As a result, the capsules produced by our client fully comply with the fixed quality specifications.
Consult with our experts regarding your bulk materials handling projects for a solution with your custom production machines.