Case study reference:
1-20-008

Processed powders: wheat starch, potato starch, salt, egg white and sugar
Deconditioning of food powders
Customer

Breton cannery specialized in the manufacture of surimi. The factory wants to equip itself with a line for preparing surimi powder and dosing powders on their cutter and combi-cut.
Requirements 
Ergonomic and clean deconditioning of raw materials
Intermediate daily storage of each material
Automatic conveying and dosing of each material to the mixing lines (multi-recipes preparation)
Repeatability and accuracy of dosages

Palamatic Process Solution 
Manual bag deconditioning station Sacktip® S: the operator places the bag on a shelf, manually or using a vacuum manipulator and positions it on the screen above the hopper.
The operator opens the bag, which is removed through the compactor and limits the volume of waste in a polyethylene sheath while avoiding the release in the workshop of any residual dust in the bags.
Big bag emptying system with tight connection head: this machine is designed for manual opening of all types of big bags, limiting dust emissions and facilitating bulk material flow. The big bag is placed using an electric hoist.
Buffer hopper, for the storage of raw materials: a buffer hopper is provided for each processed powder. A level probe is present to detect the presence of the material. A vibrator and a pneumatic vibrator are present to facilitate the flow of the ingredient.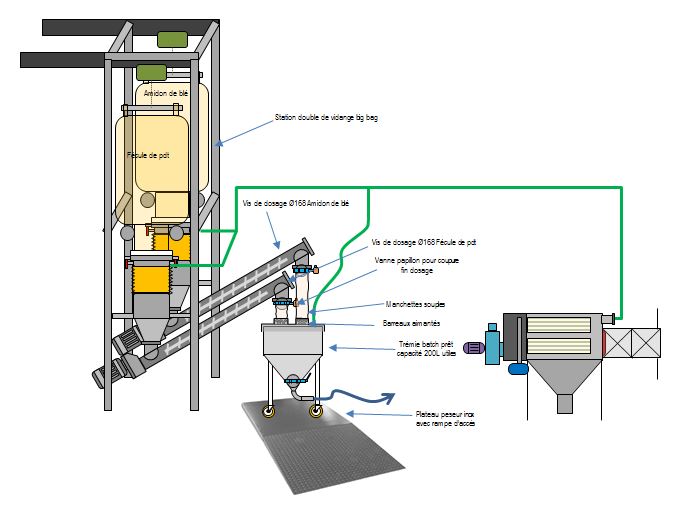 Dense phase pneumatic suction transfer: transfer of the powders from the reception hoppers installed under the big bags to the 2 dosing hoppers serving as buffer hoppers for feeding the combi-cut and the cutter.
Screw feeder with integrated shaft: this system is designed for powder dosing.
It allows batch or continuous dosing or volumetric or weight dosing depending on the options selected. For this application, the dosing rate is about 133 l/h for a precision of +/- 3g. A dosing unit is provided for each material (dedicated line).
An independent dedusting unit ensures a good air quality.
Each equipment is able to ask for a different powder dosing recipe consecutively according to the filling needs of the hoppers. For this purpose, automats and touch screens have been installed to automate the process and ensure a good traceability with information feedback to the computer system.