Case study reference:
1-11-003

Processed powder: dairy product flakes, density 400 to 500 µm
Recycling of milk powder by micronization


The client, which specializes in industrial ecology, wants to add value and reclaim non-compliant dairy powders by recycling the material through a pin mill for reintroduction into the downstream process.

Project Data:
Average particle size: 5 mm
ATEX environment: zone 20 inside / 22 outside
Powder explosivity class: STII
Minimum ignition energy: 50 mj
Ignition temperature: 392 °F
Shredding capacity: 200 kg/h. x 520 litres/hr
Stainless steel construction
Milk powder recycling loop through pin mill
The installation consists of the dosing, transfer, grinding and reconditioning of the milled milk powder.

Magnetic safety bars protect the pin mill equipment from any metallic foreign body. The Palamatic Process screw feeder, model D12, provides a continuous and controlled feed rate of product into the pneumatic conveying line. The pneumatic transfer system, the Palamatic Process VFlow®, then directly feeds the powder into the grinding chamber of the industrial pin mill.

The material is conveyed directly into the pin mill chamber, which is located on a filter hopper with integrated dust explosion features. Explosion protection is provided by an indoor explosion vent, as well as mechanical reinforcement of the hopper. An air dehumidifier is also integrated into the pneumatic conveying system to improve flow characteristics and protect the integrity of the powders.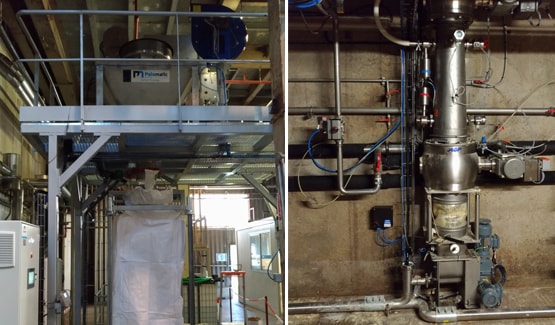 Packaging of milk powder in big bags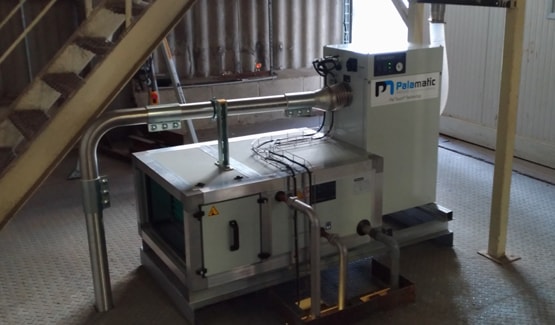 Air treatment battery
The receiving hopper for the milled milk powder is equipped with a double dump valve for both explosion isolation and continuous discharge of the material to the bagging system. The micronized dairy powders are then packed into big bags through an inflatable dust tight seal, and dosing is maintained via the load cells and weighing plate.
The Palamatic Process UM160 model industrial pin mill uses 5.5 kW of power and a pin disc speed of +10,000 rpm. In addition, the big bag used is a type C package which is rated for electrostatic discharge via grounding equipment. Hygienic packaging is conducted by means of heat sealing the big bags at the end of the packaging process.
The entire grinding and conveying system is controlled by a Palamatic Pal'Touch PLC configuration.