Case study reference:
1-15-004

Processed powders: milk powder, salt, sugar and additives

Raw material dosing
Objectives of the installation:

- Big bag discharger from the top: very compact size of the station
- Possibility of dosage
- Possibility of closing the opened big bag
- Cleanliness
This project concerns the discharging of raw materials from big bags for feeding 2 Viennese pastry production lines.
The big bag is emptied from the top via the filling sleeve and in a contained manner: EasyFlow® Flex model.
The big bag dsicharger is fitted with a dust-tight connection head that ensures the containment of the installation. It is fitted with a inflatable seal. Hooks allow a quick attachment and removal of the big bag. The fan shapes the big bag to avoid folds when discharging it.

A vacuum pipe automatically sucks the milk powder into the big bag. This is connected to the pneumatic conveying circuit and can be removed by clamp.
Compressed air is continuously blown into the tube to secure the conveying.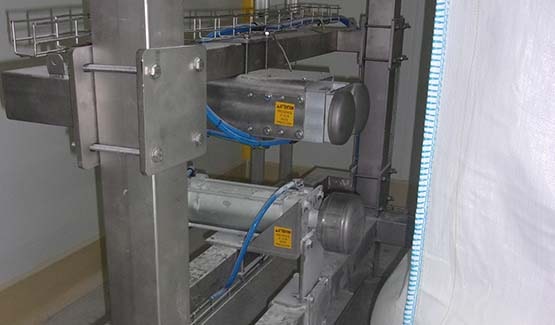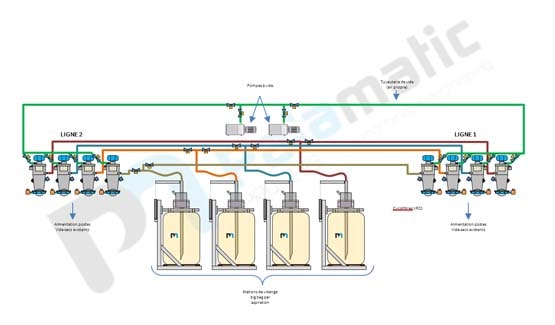 The vacuum pipe is mounted on a linear cylinder-type guide that is lowered into the big bag. The entire guiding system is mounted on the deck that lifts the big bag in order to optimize the space requirement and improve the tightness of the suction pipe by means of a flexible sleeve.
A massage system, fitted with 2 lateral cylinders, improves the discharging rate by bringing the material back to the centre of the big bag and forces it to flow.
Once the material is vacuumed, it is evacuated via a pneumatic conveying system. A pinch valve switch automatically selects the desired conveying line.
2 VFlow® 01 pneumatic vacuum conveying systems feed 2 dosing lines. They are operated by dry vane pumps that provide the necessary vacuum to move the material through the piping system.
An electrical control cabinet controls the entire installation.