Case study reference:
5-007

Processed product: alumina balls
Loading catalysts
 
Objectives and challenges:
The client's objective, a major supplier in the chemical sector in France, is loading two 25 meter high gas treatment towers with catalysts. These catalysts have the property of capturing toxic gases before they are released into the atmosphere.
The loading operation takes place every 6 to 9 months, due to the reduced effectiveness of the catalysts.
The handling of alumina balls packaged in big bags requires complex and unsafe operations for the operators. The big bags must be crane lifted above the towers, then an operator must place his hands under the big bag in order to unlace the cuff and allow the container to be emptied.
The catalysts are fragile alumina balls, 4 to 8 mm in diameter. Therefore the type of conveying system proposed must preserve the integrity of the alumina balls. The degradation of the catalysts would modify their properties and significantly reduce their efficacy.
 
Palamatic Process equipment:
To secure the work of operators, Palamatic Process offers an  EasyFlow®125 big bag emptying station positioned on the ground, coupled with a VFlow®03 cyclofilter placed above the towers at a height of 28 meters. A flexible sleeve will connect one or other of the towers to the cyclofilter.
The advantage of dense phase pressure transfer is to convey the material at sufficiently low speeds and preserve the integrity of the product. The conveying method used is compressed air. A system of controls and regulations makes it possible to adjust the characteristics of the conveyance (flow rate, pressure, etc.) to moderate a reliable transfer of the material.
The transfer is fed by a rotary valve with a body fitted with an inlet deflector to limit the shearing of the balls as the blade passes under the feed flange. This lock is positioned directly under the big bag emptying station, a gear box clamped below is connected to the transfer piping.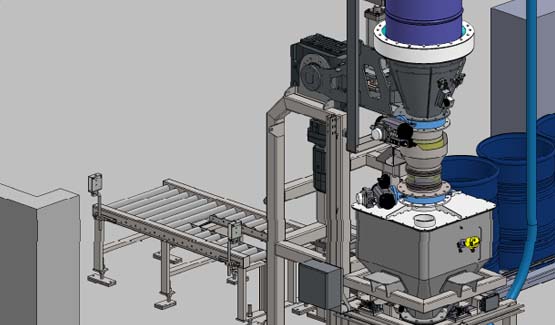 Results:
The installation provided by Palamatic Process made it possible to fulfill all the functions required by our client:
Securing the opening of the big bag
Automatically convey material in alumina towers over 25 meters high
Guarantee the integrity of the product at the entrance of the tower to preserve its properties