Shipping container drop line
Capacity of 5 to 30 t/hr

Description
The TipSea® 20 solution ensures the unloading of shipping containers by tilting and transfer of packaged products via blown pneumatic transport.

The Tipsea® 20 process line is used to fill storage silos.
 
Benefits PALAMATIC PROCESS
100% suitable for shipping containers
Autonomous or truck-compatible solution
Large transfer rate up to 30 t/hr
Compact solution
Palamatic Process Bulk Handling Experience
Container products
The main products handled are: coffee beans, sugar, cereals, plastic pellets and all other products where container storage is possible.
 
Models
The characteristics of the pneumatic transfer are:
Flow rate from 5 to 30 t/h* 
|   | TipSea® 20 | TipSea® 40 |
| --- | --- | --- |
| Size of containers handled | 20 feet | 40 feet |
| Transfer rate | up to 30 t/h | up to 30 t/h |
| Electric power | 45 Kw  | 55 Kw |
| Tilting angle | 70 | 70 |
*adjusted for the product and the configuration selected.
 
Operating principle
The Palamatic Process solution for unloading dry bulk containers is based on two methods:
Swinging truck
Tilting chair for dry bulk sea containers.
 
Procedure 
Place the container on the rocker, through the truck's handling arm system
Open the container doors and connect the drain hose
Lifting of the rocker in the high position and translation (scissor effect)
Start of the container tipping
N.b. The location does not have a pit or dock allowing sufficient height at the unloading point of the container. In this instance, the drain line incorporates a raised tipper or an elevator is added.

Quality and control of unloaded product
A lump crusher and a centrifugal sieve are positioned between the shipping container and the pneumatic transfer circuit, making the process safer. 
Particular care is taken to make the equipment easy to clean and to the process safer from external contamination (containment of the feed area). 
The compressed pneumatic transfer system for the silo loading is supplied with clean product and its booster provides transfer via filtered air.
 
Choosing a Palamatic unloading set guarantees an operational and reliable silo loading line. Securing a container is expensive and these unproductive down times must be minimized.

The safety of the operators is essential during the handling phases. Palamatic Process focuses all of its designs on ergonomics and safety. Contact our pre-project service to design and plan your bulk handling line.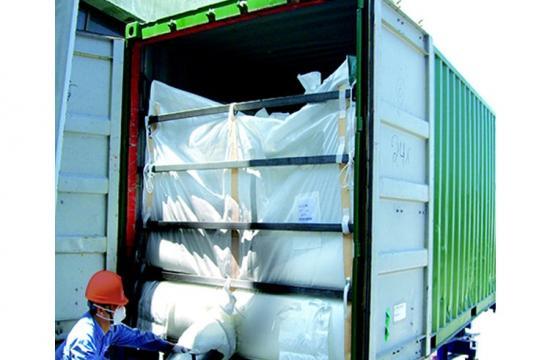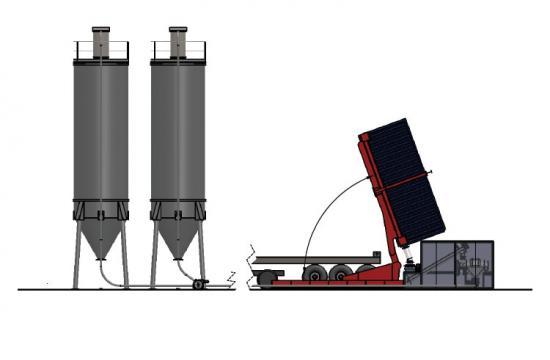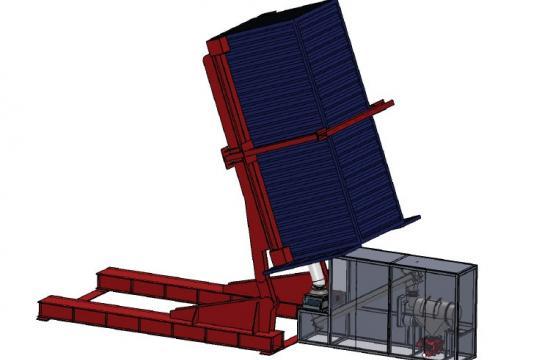 Applications
Discover the facilities of our customers who use the maritime container unloading line.
Equipment
All the equipment integrated in the process line for emptying maritime containers is available below.