Case study reference :
2-21-005

Processed powder: treated maize seeds

Seed conditioning 
This Multinational, an actor on the world seed market, wants a facility located in Brazil for the automatic packaging of corn seeds in big bags (3 million seeds per big bag - 0.9 to 1.2 tons per big bag). Palamatic Process has designed a continuous high flow big bag filling model, called FlowMatic® 04, with speeds up to 20 big bags per hour.

A belt conveyor continuously feeds the 2,000-litre buffer hopper positioned above the big bag filling station. When a big bag is ready to be filled, a pneumatically operated multi-position slide gate valve opens and the filling of the big bag starts. A flexible connection sleeve provides the connection between the slide gate valve and the big bag filling head.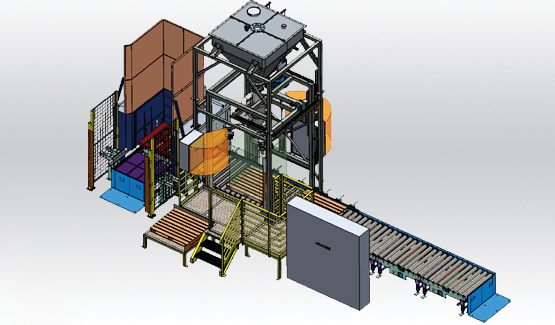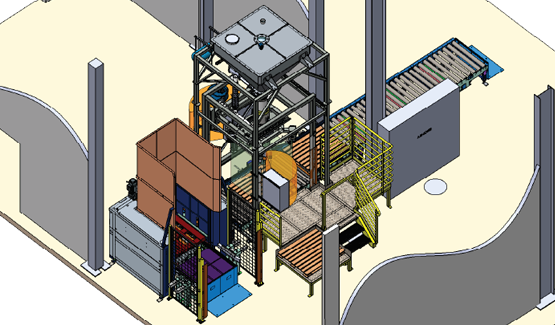 The filling head is designed with a double envelope to ensure volume balancing. The big bag cuff is held by an inflatable seal and a clamping ring. The rotating head with automatic hooks facilitates the release of the big bag handles and reduces operator operations and maximizes the ergonomics of the operator's station.
A vibrating table allows the densification of the seeds once they are packaged in the big bag. An access platform allows the operator to access the upper part of the station.
The FlowMatic® 04 big bag filling station, thanks to its fully automated design, guarantees a high production capacity and efficiently improves the work flow with a reduced number of operators.
All production checks and tests are carried out by the Palamatic Process engineering team to ensure compliance with the specifications and performance of the machines.
A PLC controls all the station's functionalities.