Case study reference :
1-13-005

Processed bulk materials: feather flour, animal flour

Animal flour loading
Palamatic Process has set up a bulk bag packaging station with vibration and automatic releaseof the bulk bag.
The support structure of the bulk bag is made of folded profiles. The bulk bag filling station FlowMatic© 03 provides dust-tight packaging of all types of powders and bulk products.
A bulk bag access platform enables operator to reach the upper part of the packaging machine for access to the bulk bag cuff.
The main operating objectives of the bulk bag packaging station FlowMatic© 03 are as follows:
-Fill bulk bags
-Limit dust emissions
-Ease the down-flow of the flour
-Optimize the filling process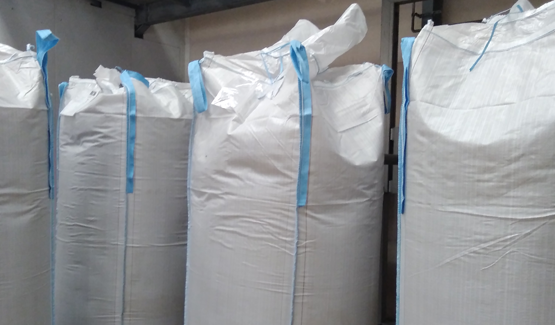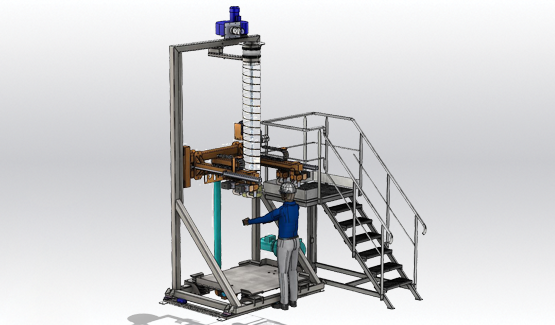 A flexible connection sleeve connects the upper and lower parts of the installation in a perfectly tight manner.
The bulk bag filling head ensures containment when filling the bulk bag.
The bulk bag is hung with automatic hooks that allow the bulk bag to be held during filling and to be automatically released after the filling phase.
A bulk bag tensioning system ensures optimum weighing and excellent filling of the bulk bag.
The FlowMatic®03 Big bag filling system is equipped with an inflation fan and a bypass valve; the fan shapes the bulk bag to prevent folds during filling.
Located on the structure, the fan is controlled by the PLC.
A vibrating table optimizes the filling and densification of animal flour.
The complete bulk bag filling system is implemented on four load cells allowing the control of the upstream dosing equipment.
An independent dust collection system and an electrical control cabinet complete the installation.