Case study reference :
1-20-006

Processed bulk materials: dried fruit 

Preparation of dried fruit recipes 
This installation involves the feeding of dried fruit into a mixer. The various dried fruits are stocked in bags, boxes and big bags.
The big bags are emptied above 2 weighted hoppers that are mobile and mounted on wheels.
The big bags are handled and positioned above the hopper using an electric hoist and a hoist iron (handling cross). Once the big bag is placed above the hopper, the discharge of the big bag can be carried out. The dried fruits are then moved to a main belt conveyor.
The belt conveyor is used to convey and elevate dried fruits to their unloading point: a batch mixer. This type of conveying is a "soft" conveying system, non-aggressive for the materials transported. 
The bags are manually unpacked above a 3rd hopper which also feeds the main belt conveyor.
As for the boxes, they are also opened manually by an operator and the dried fruits are placed on a second elevator conveyor and then crumbled before being fed gravitarily to the main belt conveyor. The lumpy dried fruit then passes through a granulator with before being discharged onto the conveyor.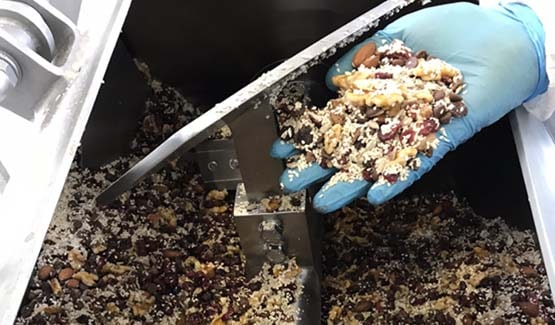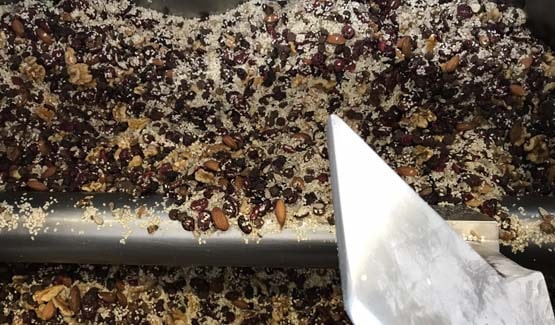 The GR35 granulator facilitates the flow of dried fruit; it deagglomerates the dried fruit by the action of rotating blades forcing the product to pass through a sizing grid.
Under each of the 3 hoppers, a vibrating feeder supplies the loading conveyor of the mixer.
Above the mixer inlet, a discharge chute is used to channel and soften the fall of the fruit into the industrial mixer.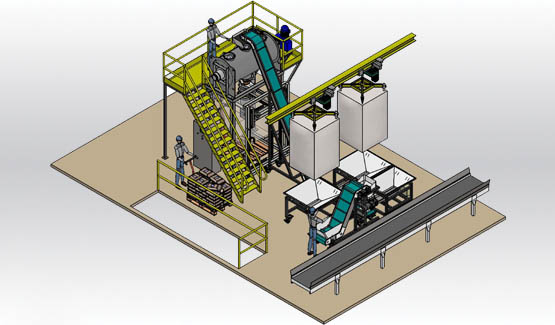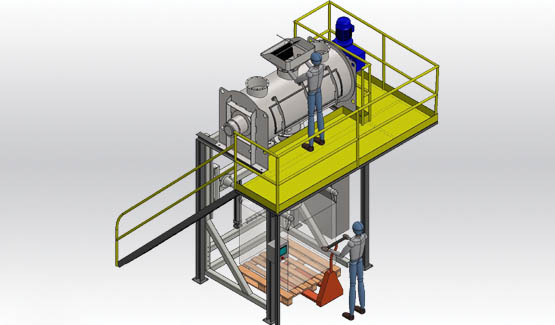 The ploughshare mixer makes it possible to form a uniform product from the different dried fruits, whose characteristics can be very different. The blends are carried out in successive batches. 
A support platform supports the industrial mixer and provides access to the hatch and motorization of this ploughshare mixer.
Once the different fruits have been mixed, they are packed in a big bag using a Flowmatic®01 big bag filling system.
It is fitted with a chute pipe fitted with baffles to soften the fall of dried fruit inside the big bag. At the beginning of the cycle, the big bag is raised by means of a hydraulic cylinder to keep it in an upright position to keep the drop height as low as possible between the outlet of the drop pipe and the bottom of the big bag. In order to obtain an autonomous filling, a microwave sensor is installed on the structure. The complete big bag filling system is implemented on four load cells allowing the control of the upstream dosing equipment. A control cabinet allows the entire process to be controlled.