Case study reference:
1-13-004

Processed powder: amino acids

Truck loading with AMINO ACIDS
This facility concerns a major player in the production and marketing of amino acids for animal feed.
As regards its production and quality management of these products, this company must recondition goods initially packaged in bags or bulk bags in bulk trucks.
The installation must be sized so that 2 operators positioned side by side can feed the tank truck with bulk bag or bag and thus recondition 12.5 t./h. of amino acids.
The bag opening station Sacktip® situated 850 mm above the ground offers the operator ergonomics and ease of use. This manual bag opening station is double, so it allows both operators to work simultaneously.
This configuration requires a one-piece construction including a bag deposit tablet with an inner fence for easy access to the de-lacing box. This Sacktip®, by design, incorporates a buffer hopper.
The outlet flange of the discharge station chute is connected to the truck loading sleeve. The sack manual discharging - Sacktip® S  is mobile and is provided with a bag compactor, also mobile. This bag compactor common to the 2 access points of the double bag discharger is installed so that both operators can evacuate their empty bags. The bag compactor prevents the operator from taking out the empty bag, the first source of pollution in the workshops. The bags are extruded in a polyethylene sheath held in tension by 2 elastic rings.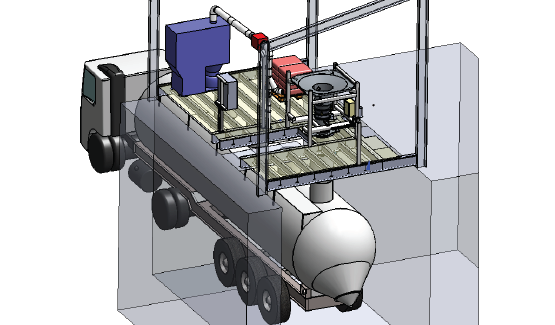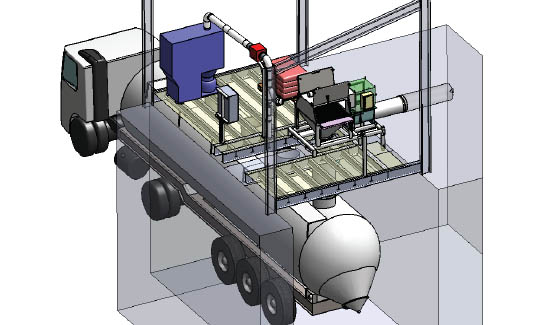 The big bag discharging Easyflow EF0 station is mobile.
The unloading box of the bulk bag emptying system is positioned at 1300 mm from the ground.
This bulk bag opening system is designed for manual opening of all types of bulk bags, minimizing dust emissions and facilitating amino acids flow. The bulk bag is placed using a forklift truck.
The hoist of the truck loading handle is manual and is located on the operator platform.
An independent industrial dust collection system dealing with air charged with pulverulent and a control cabinet complete the installation. The dust collector is mounted on the platform.