Ice sugar manufacturing unit
Capacity: 250 to 3 500 kg/hr

Description
4 models available: PalSugarIce® 25, PalSugarIce® 100, PalSugarIce® 200, PalSugarIce® 350
Icing sugar production line from crystal sugar and incorporation of anti-caking agent.

Food and pharmaceutical grade sugar for immediate use or packaging.
Benefits PALAMATIC PROCESS
Capable of fine particle production 99% <90µm
ATEX 20-22 standard
Low energy consumption
Hygienic design 
The sugar grinding line is composed of a crystal sugar silo, bulk bag or sack tip unloading, feeding and dosing system to the grinding mill, a dosing storage assembly for anti-clumping (starch or potato starch) dosed at between 1.5 to 3%, a pin mill, a threshing hopper, an icing sugar extraction and a dust collection set.
Models
 
PalSugarIce® 25
PalSugarIce® 100
PalSugarIce®  200
PalSugarIce® 350
Production flow

 

250 Kg/hr*
1 000 Kg/hr
2 000 Kg/hr
3 500 Kg/hr
Grain fineness capacity

 

70 to 600 µm
70 to 600 µm
70 to 600 µm
70 to 600 µm
% anti-caking agent - starch / starch that can be introduced
0 to 5%**
0 to 5%**
0 to 5%**
0 to 5%**
Materials of construction
Steel, 304L stainless steel, 316L stainless steel
Steel, 304L stainless steel, 316L stainless steel
Steel, 304L stainless steel, 316L stainless steel
Steel, 304L stainless steel, 316L stainless steel
Power installed on the complete line
10 Kw
25 Kw
45 Kw
85 Kw
Compressed air flow
 
 
 
 
Air treatment flow
800
2 000
4 000
5 800
* given for an output particle size <125µm
** Standard average application between 1.5 to 3% starch for standard starch sugars. Starch levels can be increased depending on sugar moisture levels and climatic temperatures at the installation location if temperature control is not ensured.

Milling technology
The grinder used for the manufacture of icing sugar is a pin mill with rotating plates. This technology makes it possible to reduce the granulometry of the sugar by shattering the particle. Moisture control during the reduction phase is achieved by dosing the starch via the screw feeder as well as the threshing hopper.
The threshing hopper, sized according to the PalSugarIce® model selected, provides the temperature drop buffer of the freshly milled sugar. Stirring of the hopper is provided by a rotating unit with straight blades.
 
Line automation
The control of the grinding line offers the operator the selection of the desired particle size, the desired flow rate and the amount of starch to be introduced.
 
Typical applications
Palamatic's PalSugarIce® grinding lines are widely used in industrial chocolate factories, sugar manufacturers, industrial bakeries and even the confectionery industries. The icing sugar produced on the PalSugarIce® Palamatic  Process line is ideal for making meringues, chewing gum, chocolates, ice cream, icing, nougat, macaroons, caramel, etc.

The grinding line is ATEX 20-22 certified.

The air treatment and management of the dust collection line is fully integrated by the installation of a filtration assembly.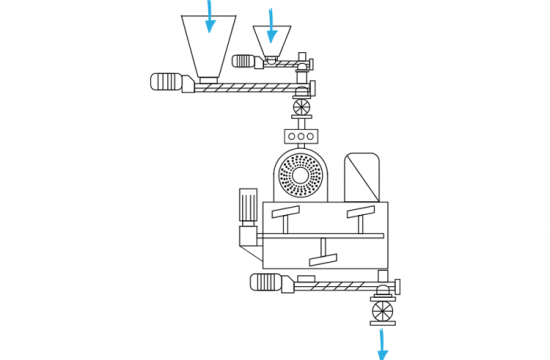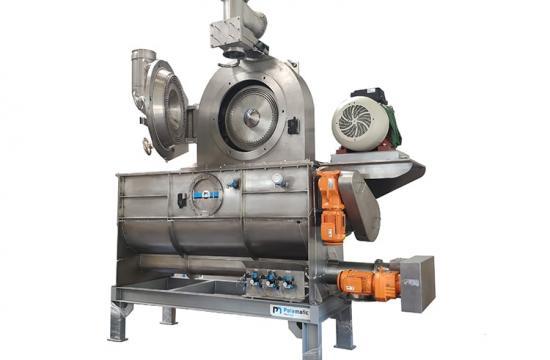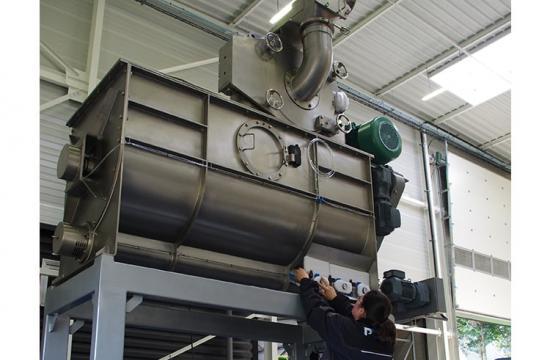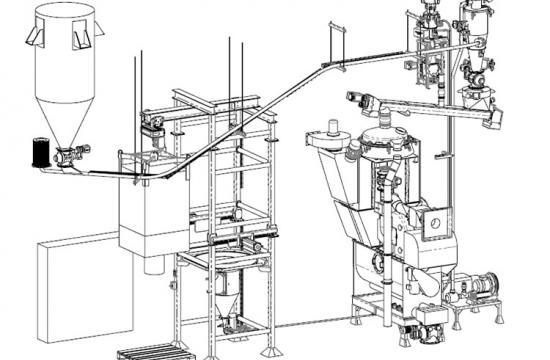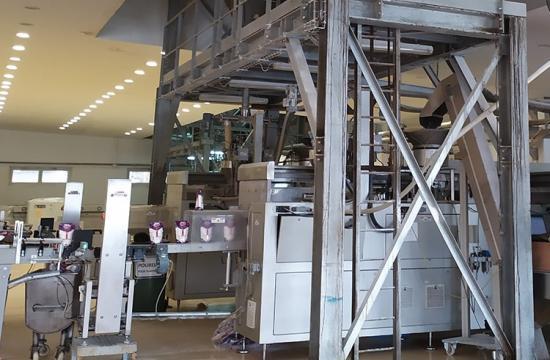 Applications
Discover the installations of our customers using the PalSugarIce® powdered sugar grinding line.
Equipment
All the equipment integrated in the powdered sugar production unit is available below.