Case study reference :
4-42-005

Processed powder: perlite
Perlite unloading, dosing and conveying
This mineral handling installation consists of an EasyFlow® 125 big bag discharging station. The big bag is placed on the independent discharging structure using an electric hoist. Once the big bag has been placed on the tray, the discharge can be carried out.
A dust containment enclosure ensures ergonomic access to the big bag spout and an overflow protection tube ensures that the perlite is contained when the big bag is opened.
An access platform permits the operator to easily access the unloading structure. The station is provided with 4 massage cylinders to facilitate the flow of perlite.
The entire discharge structure is weighed to inform the process of the quantity of perlite being introduced. The entire big bag emptying system is installed on 4 load cells. The dosage is ensured by de-weighing (weight loss to control the quantity of perlite dosed). The batching is proportional and large amplitude (controlled by the customer's main material flow rate).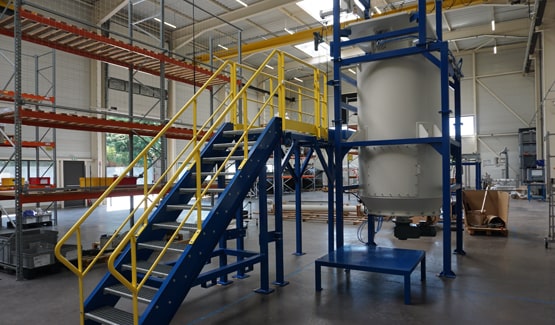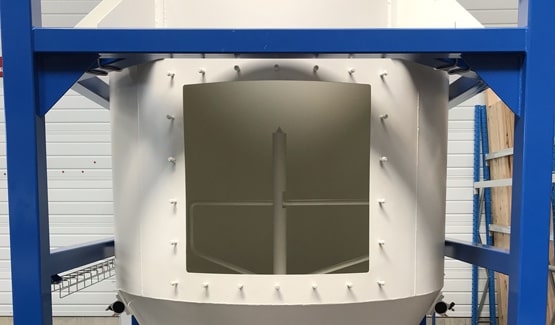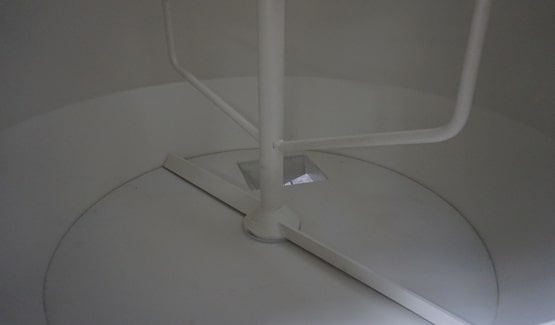 Once discharged from the big bag, the perlite flows into a 4,000-litre capacity hopper. This 4m³ buffer hopper allows an autonomy of production and is fitted with an anti-bridging device to facilitate the downflow of the bulk materials. The implantation of an anti-bridging device is essential in view of the nature of the bulk material and facilitates the feeding of the extraction screw. The transfer of the perlite out of the hopper is carried out mechanically by a first Archimedes screw with a length of 2,000 mm.
This tubular screw is made of painted steel and is equipped with anti-abrasion coated rotors.
At the outlet of this first screw, a BFM® flexible fitting is used to connect it tightly to a second screw 6,000 mm long. The latter is provided with a slide valve.
The system is controlled by an electrical control cabinet.