Case study reference :
1-14-004

Processed powders: spice mixtures (curry...), tea and herbal tea blends & fine salt.
Mixing and packing of spices
The customer is a French SME that sells products to help with desserts and spices.Solutions provided:
Due to the different materials and allergens, the installation had to be easy to clean. Indeed, different products are packaged on this line such as tea, food spices, curry.

Bagging station for packing spice and powder mixtures in bags from 1 to 25kg.

The bulk material is unpacked in a paddle mixer and then fed into a buffer hopper at the outlet of the mixer. The pallet mixer ensures a gentle mixing that preserves the material. The material is transferred to a vibrating dosing unit with an open cover. The accuracy of the dispenser is ± 20g.

The bag placed by the operator on the station is used to package the spices. The packing operation is tight thanks to the presence of a flexible sleeve DN300 .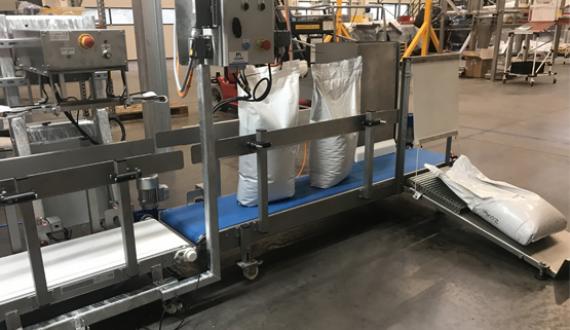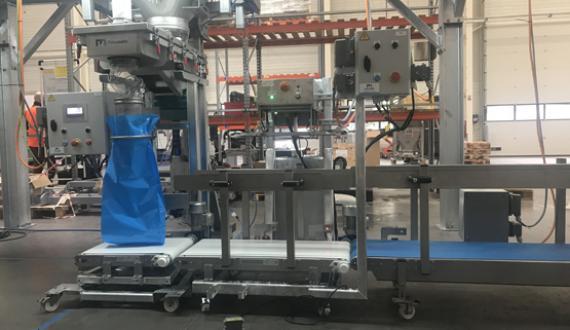 The bag filling station PalSack® 01 is mobile with an adjustable tray that adapts to the height of the bags. Once the bag is filled, the bag is directed to a sealing machine. The belt conveyor then places the bag at an hatch to remove the bag from the conveyor.
The operator then places the filled bag on a pallet using a bag manipulator. 
The installation is positioned on an access platform, 2 lifting tables are provided so that the raw materials are at the disposal of the operator.
The PLC interface is flexible because the packing process is variable. Accuracy and speed may vary for recipe compliance.
Results obtained :
Design with easily removable and mobile equipment for dispatch to the washing room.
Flexibility of the PLC for the production of the different recipes.