Case study reference :
1-15-007

Processed products: seeds (brown and yellow flax, sunflower, poppy, squash, buckwheat), dried fruits (almonds, hazelnut powder, pistachio powder), dried fruits, sugars...

Production of dried fruits and seeds
 
Our client, a French manufacturer of dried fruits and seeds mixtures in the food industry (pastry and industrial bakeries) wanted to implement a new mixing and packaging line linked to the growth of his business.
The raw materials, delivered in bulk bags and sacks, are unpacked on the DUOPAL® station which is dedicated to the emptying of both types of packages. These discharging stations are on load cells which allow the metering of materials into the transfer line via vibrating corridors to prevent the degradation of the products.
The transfer of raw materials is carried out by vacuum with a model VF04 cyclofilter at a flow rate of 2000 kg / hr. The dense phase transfer avoids any deterioration of the product.
The material is conveyed into a horizontal single-rotor mixer with MRS2000 blades working in batches of 1400L. The speed, as well as the mixing time, is adapted to each recipe in consideration of fragile products. When finished, the entire mixture is emptied into a buffer hopper which frees up the mixer for the next batch.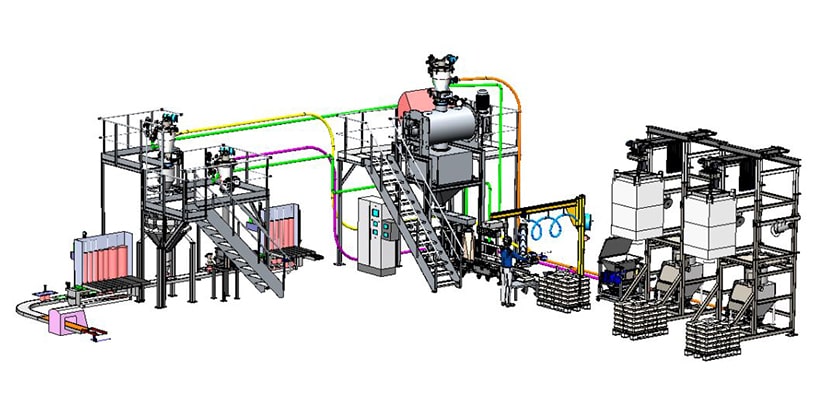 For the rest of the process, a bucket packaging system with a maximum capacity of 8 liters was installed.
For this, the bag conditioner has been designed to be mobile to allow the integration of a speed-up box under the buffer volume at the mixer outlet. This provides the conveyance of the mixture by vacuum (Cyclofiltre VF04) to an associative weigher.
The multi-head weigher prepares the dose by combining several ingredients and releasing them via gravity into the bucket. An automatic barrel unstacking system allows the empty container to be brought via a belt conveyor to the packaging station. Likewise, a belt conveyor transfers the filled container to the automatic cover removal station. The filled and closed bucket is then transferred to the automatic palletizing station via a new conveyor belt fitted with a metal detector. A box erector prepares the cardboard box in which a 5-axis robot equipped with a gripping suction cup will introduce the desired number of buckets. The box is then directed to an automatic sealer to be closed. The closed boxes are picked up by the robot and positioned on a pallet. The evacuation of the pallet is done by forklift.
The implementation of a packaging device in 25kg bags directly at the outlet of this buffer volume via a vibrating feeder is also an optional feature.
The conditioning would have then been conducted by a PALSACK® 01 sack vacuum station fitted with an inflating seal and vibrating table. The bags were then transferred to the manual palletizing station by a belt conveyor fitted with a metal detector. At the end of the line is a sack sewing unit and a vacuum bag lifter which allows effortless manual palletization by the operator.