Case study reference:
1-17-010

Processed powders: Icing sugar from white granulated sugar and starch
Sugar grinding unit
The installation consists of the manufacture of icing sugar with the injection of an anti-caking agent. The icing sugar is packaged in a jar on a vertical carton machine.
The throughput of the process line is 2,500 kg / hr for a particle size 98% <100µm.
The compact production skid is made up of:

Step 1:
Mixing of crystal sugar and starch
The sugar is directly fed from storage silos and tubular screw conveyors . The starch is fed from a Sacktip®S80 manual bag emptying station which allows the sacks to be unpacked . The concentration of starch in the icing sugar is less than 5% and feeding the anti-caking agent from 25 kg bags remains sufficient. A possible extension in big bags is planned according to production rates.
The starch unloaded in the sack tip tray is transferred by pneumatic conveyor to the high precision screw feeder. The VFlow® 01 cyclone type pneumatic transfer feeds the screw feeder when the starch level reaches the low level. The starch is injected into the sugar screw 2 meters before the feed inlet of the mill, which provides premixing of the product. The screw coil allows the sugar and starch to be stirred before entering the grinding chamber. The automatic control of the dosages is carried out by the load cells.
Step 2:  
Introduction to the mill
A full- bore rotary sluice, positioned above the mill, aims to isolate the grinding chamber and helps to contain the flame in the event of an explosion.
 filtered air inlet is located at the mill inlet in order to cool the crushed sugar.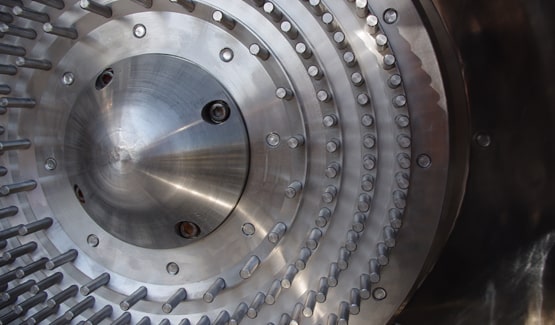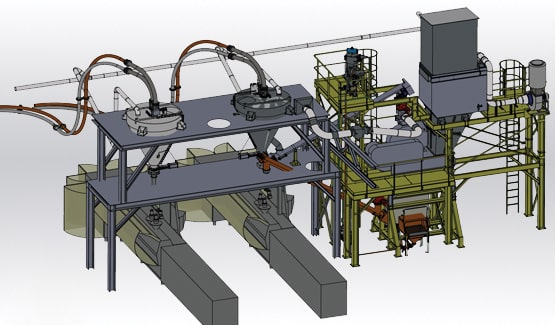 Step 3:
Milling
A pin mill unit PolyMill UM 630 crusher ensures the "breakage" of the sugar particle. The high-speed pin disc forces the material to pass through these rotating plates impacting the sugar particles to obtain an output particle size <100µm. The shattering of the moisture-releasing sugar particle is processed in the threshing hopper, which allows cooling while being stirred to avoid caking.
This agitating hopper, with a volume of 1300 litres, receives the icing sugar at the outlet of the mill. There the sugar is temporarily stored with continuous stirring to prevent it from solidifying during cooling. It is fitted with a screw conveyor at the bottom of the trough which allows the extraction of sugar to the downstream packaging station.
The feeding of the packer is provided by an endless lifting screw which ensures the filling of the buffer hopper. Thanks to this installation, the output of icing sugar jars is continuous with a grinding rate of 5 t/hr.

The ATEX conditions of this sugar grinding skid are fully respected with many safety devices: filters, explosion vent, temperature sensors, sensor redundancy, electrical continuity...

Our experts are available to assess your risks via the use of ATEX powders with EMI <3 mJ!