Line for loading multiple ingredients into a mixer
Loading capacity up to 15 tons/hour.

Description
The BakeFlow®2 loading line provides automated loading of mixers from several raw material storage facilities.
The storage hoppers are connected to the kneader via pressurized pneumatic transfer systems and weigh dosing automatons for increased precision.
Benefits PALAMATIC PROCESS
Multi-ingredient automatic loading
Precise weighing and dosing
Hygienic design
Flexible design to accommodate a number of ingredients
Models
|   | BakeFlow2® 2 | BakeFlow2® 4 | BakeFlow2® 6 |
| --- | --- | --- | --- |
| Loading rate in kg/h. | 5,000 - 10,000 | 5,000 - 10,000 | 5,000 - 10,000 |
| Number of ingredients handled  | 2 | 4 | 6 |
| Supply via sacks or bulk bags | Yes | Yes | Yes |
| Silo feed |   | Yes | Yes |
| Additional multi-product line with integrated dosing |   | Optional | Yes |
| Magnetic protection | Optional magnetic bars  | Magnetic bars or optional ejector | Magnetic bars or optional ejector |
| Sieving | Optional vibrating screen | Vibrating or centrifugal sieve  | Optional centrifugal sieve |

The BakeFlow®2 automatic ingredient loading line for mixers represents the multi-ingredient version of the BakeFlow®1 solution. Palamatic Process has developed a flexible and automated production line, taking into account the increasingly complex materials and wide varieties of products produced by industrial bakeries. The loading of the production mixers are fed automatically from storage silos, bulk bag discharge stations and sack tip trays.
Our security screeners provide quality control of raw materials during pneumatic conveying phases.
The pneumatic transfer of ingredients is conducted by the Palamatic VFlow® technology (transfer under high vacuum) to provide a semi-dense high flow rate conveyance. The VFlow® technology design allows increased hygiene due to the filtering capabilities of the receiving cyclones.
The silos, bulk bags and sacks of flour, egg powder, soy lectins, sugar, yeasts, dextrin, starch, soy flour, bean flour, etc., allow the introduction of all these ingredients on the dosing line.
An automated dosing line is designed to allow several products to be introduced and dosed via a high precision weighing introduction hopper.
As with the multi-ingredient line, highly precise weighing hoppers ensure the loading of the mixing kneaders for efficient operations.
The industrial automation coupled to the PLC provides control and management of all manufacturing recipes. The traceability of the weighing and introduction of ingredients is stored in the program to ensure respect for food safety.
As required in the field of Bakery and Pastry, the system is designed for increased cleanability. CIP (Clean in Place) solutions are also available for multi-product production lines. In addition to the hygienic design, all the dosing equipment, transfer cyclones, bag unloaders and weighing hoppers are integrated into independent structures or installed in your facility by our engineering office.
The maintenance and reliability of your production tool is planned from the design stage via:
ergonomic access to equipment
supports to ensure the calibration of the weighing hoppers
automatic traceability

Why contact our experts in bakery and pastry?
For all your pastries, doughs, mixes, desserts, tarts, etc. and production line projects, BakeFlow® automated lines represent the first essential step in the manufacturing process in this sector.
These lines are entirely dedicated to the introduction of raw materials, storage, dosing and weighing of dry and liquid ingredients, as well as the automatic transfer operations of these weighed and pre-mixed ingredients. Using the automatic ingredient feed lines designed by Palamatic Process ensures efficient feeding of the key mixing stage.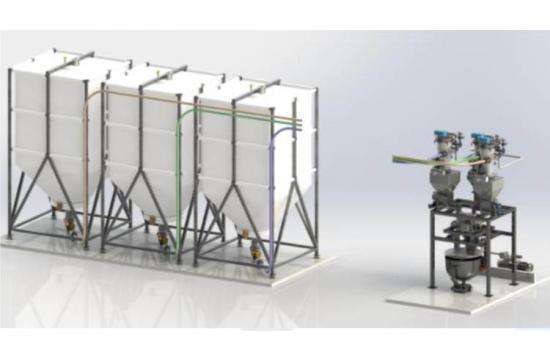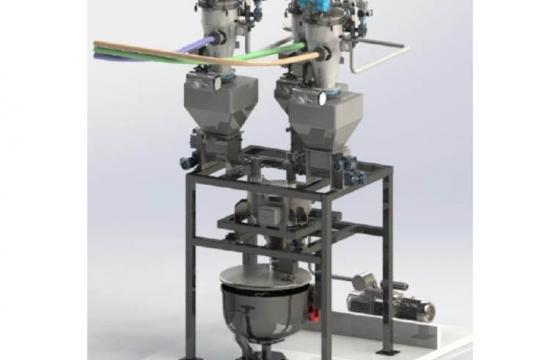 Case studies
Read about our customers' installations using the BakeFlow®2 multi-ingredient automatic dough mixer loading line.
Equipment
All the equipment integrated in the BakeFlow®2 process line is available below.